Everything has an  origin, a history, a past.  So too, does the jolly, whiskered gentleman whose character and purpose – rivaled only perhaps by restaurant giant, McDonalds – is the most universally recognised figure in the Western World.
However, not only does history have a habit of  "repeating itself"  but also of "changing form" over the course of time, so that the true identity of someone or something can differ from its original form, becoming similar to a "Chinese Whisper" so that the final telling bears scant resemblance to its origin.
In the early USA his name was 'Kris Kringle' (from the Christkind). Later, Dutch settlers in the USA took the old stories of St. Nicholas with them and Kris Kringle and St Nicholas became 'Sinterklaas' or as we now say 'Santa Claus'!  However, we know that this jolly, kind and portly gentleman, has very saintly beginnings in his historical counterpart.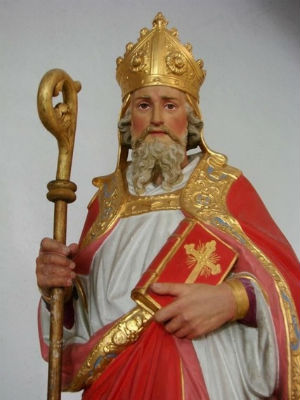 The true story of Santa Claus began with Nicholas, who was born during the third century in the village of Patara.  At the time the area was Greek and is now on the southern coast of Turkey. His wealthy parents, who raised him to be a devout Christian, died in an epidemic while Nicholas was still young. Obeying Jesus' words to "sell what you own and give the money to the poor," Nicholas used his whole inheritance to assist the needy, the sick, and the suffering. He dedicated his life to serving God and was made Bishop of Myra while still a young man. Bishop Nicholas became known throughout the land for his generosity to those in need.
Under the Roman Emperor Diocletian, who ruthlessly persecuted Christians, Bishop Nicholas suffered for his faith, was exiled and imprisoned.   After his release, Nicholas attended the Council of Nicaea in AD 325.
He died December 6, AD 343 in Myra and was buried in his cathedral church.  The anniversary of his death became a day of celebration, St. Nicholas Day.
Through the centuries many stories and legends have been told of St. Nicholas' life and deeds. These accounts help us understand his extraordinary character and why he is so beloved and revered as protector and helper of those in need.
 One of the most famous  stories associated with Saint Nicholas, tells of a poor man with three daughters. In those days a young woman's father had to offer prospective husbands something of value—a dowry.  Without a dowry, a woman was unlikely to marry. This poor man's daughters, without dowries, were therefore destined to be sold into slavery. Mysteriously, on three different occasions, a bag of gold appeared in their home-providing the needed dowries. The bags of gold, tossed through an open window, are said to have landed in stockings or shoes left before the fire to dry. This led to the custom of children hanging stockings or putting out shoes, eagerly awaiting gifts.
 Widely celebrated in Europe, St. Nicholas' feast day, December 6th, kept alive the stories of his goodness and generosity. In Germany and Poland, boys dressed as bishops begged alms for the poor—and sometimes for themselves! In the Netherlands and Belgium, St. Nicholas arrived on a steamship from Spain to ride a white horse on his gift-giving rounds. December 6th is still the main day for gift giving and merrymaking in much of Europe.  In Holland and some other European Countries, children leave clogs or shoes out on the 5th December (St. Nicholas Eve) to be filled with presents.   They also believe that if they leave some hay and carrots in their shoes for Sinterklaas's horse, they will be left some sweets.  (Here we can observe similarities to a popular tradition of leaving "milk and cookies" for Santa Claus). This tradition of simple gift-giving in early Advent helps preserve a Christmas Day focus on the Christ Child.
In 1823 the famous poem 'A Visit from St. Nicholas' or 'T'was the Night before Christmas', was published.  The poem describes St. Nicholas with eight reindeer and gives them their names. They became really well known in the song 'Rudolph the Red nosed Reindeer', written in 1949.
Other stories tell of Nicholas saving his people from famine, sparing the lives of those innocently accused, and much more. He did many kind and generous deeds in secret, expecting nothing in return. Within a century of his death he was celebrated as a saint. Today he is venerated in the East as wonder, or miracle worker and in the West as patron of a great variety of persons-children, mariners, bankers, pawn-brokers, scholars, orphans, laborers, travelers, merchants, judges, paupers, marriageable maidens, students, children, sailors, victims of judicial mistakes, captives, perfumers, even thieves and murderers! He is known as the friend and protector of all in trouble or need.
Nicholas' tomb in Myra became a popular place of pilgrimage. Because of the many wars and attacks in the region, some Christians were concerned that access to the tomb might become difficult. For both the religious and commercial advantages of a major pilgrimage site, the Italian cities of Venice and Bari vied to get the Nicholas relics. In the spring of 1087, sailors from Bari succeeded in spiriting away the bones, bringing them to Bari, a seaport on the southeast coast of Italy. An impressive church was built over St. Nicholas' crypt and many faithful journeyed to honor the saint who had rescued children, prisoners, sailors, famine victims, and many others through his compassion, generosity, and the countless miracles attributed to his intercession. The Nicholas shrine in Bari was one of medieval Europe's great pilgrimage centers and Nicholas became known as "Saint in Bari." To this day pilgrims and tourists visit Bari's great Basilica di San Nicola.
So, reflecting upon all these amazing historical events in the life of the original "Santa Claus" it is easy to see from where some of the current traditions have emerged.   Saint Nicholas did indeed live the ideals of Christ by loving his neighbour.  Let us not lose sight of the true message of Christmas, incarnated in the Christ Child, who also came for 'love of neighbour" and from these two Holy personages, (Jesus and Nicholas) may we truly celebrate Christmas with its message of genuine Love for our loved ones and those in need of love.